Will it be a $1 building, a lease-to-own or a municipality as owner?
Reviews and recommendations are unbiased and products are independently selected. Postmedia may earn an affiliate commission on purchases made through links on this page.
Content of the article
Will it be a $1 building, a lease-to-own or a municipality as owner?
Content of the article
To entice craft breweries to open in abandoned historic buildings, municipalities are taking different approaches in southern Ontario and across Canada.
In St. Marys, the long-empty 1858 Grand Truck Railway station – which in its heyday employed Thomas Edison – was brought back to life in 2021 by the owners of Broken Rail Brewing. They are passionate not only about beer, but also about history, boxers and the nearby dog ​​park. The building was sold for a nominal sum.
By next summer in Port Stanley, plans call for a brewery to open in the vacant Dominion of Canada warehouse south of the historic King George VI lift bridge. Here, the arrangement with the municipality is a lease with an option to purchase.
But perhaps the most aggressive, yet cautious, approach is half-country in Prince Rupert, British Columbia, where a reportedly $4 million renovation is underway at the abandoned CN rail station. Rail along the waterfront of pretty northern British Columbia. Bitten by a previous deal gone awry to redevelop the station, the city this time retains ownership of the property and has prompted nine-year-old tiny Wheelhouse Brewing to load up its tanks and move a few blocks from its current location.
Content of the article
I visited the 650-square-meter (7,200-square-foot) century-old station in June, when its interior was gutted and visions of a new, sleek and spacious brewhouse and dining hall necessitated detailed explanations from its rebuilder and brewer.
The brasserie will be on the ground floor, where passengers once waited. People's Square will be one floor above, with a restaurant, outdoor patio, and views of the waterway to die for.
On some days, this view will include the comings and goings of large cruise ships.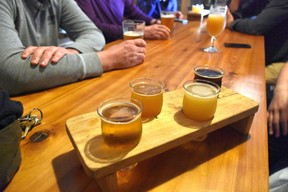 You would think that foot traffic from disembarking cruise passengers would be in the wheelhouse at Wheelhouse, but no. These passengers will be welcomed with Norm-type cheers, but Wheelhouse co-owner and brewer Craig Outhet told me he cares less about attracting these four-hour shore leave visitors and more about offering hospitality to the loyal locals who brought his brewery here. drinking beers such as Killer Wit ale, High Standards pilsner and – my favorite – Scurvy Dog spruce beer brewed with native coastal Sitka spruce tips.
Content of the article
These locals will be on a quest for craft beer (there will be a production lag during the move) and see what Wheelhouse and City Hall have done to this treasured old place.
Will they be as impressed with the project when it's finished this fall as they were with the beer? I think so and, with a shout out to Outhet and its main customers, there is also a tourist game here among brewers, train enthusiasts, ship enthusiasts and history buffs.
It's a project that could inspire other municipalities to use craft beer to leverage new uses for old buildings. Let's drink to that.
ON THE TRAILS OF THE ALE
The new wheelhouse will be a must-see destination along the Northern BC Ale Trail, which stretches through glacial valleys, mountains and a misty coastline from Prince George to Prince Rupert.
Content of the article
This isn't the only beer trail for craft beer brewers. Closer to home in Stratford, a tasty is back after a pandemic break.
The Bacon and Ale Trail promotion runs 15 beer and pork stops for visitors to tour and sample special items in exchange for vouchers. Craft breweries include the three in Stratford – Jobsite, Black Swan and Heritage Hops – as well as Broken Rail in St. Marys and Shakespeare Brewing in Shakespeare. Pork stops include Mercer Kitchen and the Boar's Head pub in Stratford. Tour vouchers are $39.55 for five.
NEW AND RATED
We have a sighting of Jackass in Sarnia. The Cambridge brewery has found its kindred spirit 200 kilometers away at Imperial City Brew House. The brewers from each worked together, challenging their comfort zones for a new beer – a vibrant tropical fruit sour. Get Juiced contains six percent alcohol. It pours a peachy pink for a summer vibe. "Sweet hop aromas blend seamlessly and intertwine with a massive tropical fruit scent," Imperial City's Craig Brodie said in an email. It's available chilled at the Sarnia brewery, where it's best enjoyed with patio time and friends.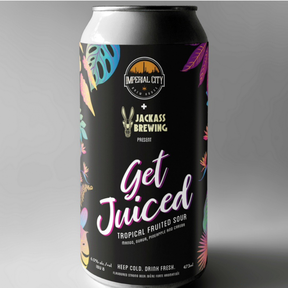 Jackass, known for its Uncle Steve's Irish Red, has a new IPA from New England. Haze No. 5 is made with Nelson Sauvin and Mandarina hops. When poured into your favorite pint of nonic, expect a burst of white wine and grape aroma, followed by the expected citrus taste. Jackass has another NEIPA sold at select LCBOs, the flagship Sun Kiss.
Wayne Newton is a London-based freelance journalist.
[email protected]l.net