Malavika Mohanan, Master's leading lady, was quick to react to the misogynistic portrayal that surfaced on a Twitter fan page. But she quickly deleted it, despite the screenshot of the tweet going viral on social media.
It all started when a Twitter account posted an artistic illustration of the Master crew hanging out during quarantine. The image had illustrations of Vijay, Malavika, Anirudh and Vijay Sethupathi among others. Vijay is seen sitting on a sofa, listening to music while Anirudh and Vijay Sethupathi play the piano and a game respectively. Meanwhile, Malavika is seen cooking in the kitchen while all the men in the room enjoy life comfortably by indulging in things that interest them.
This prompted the actress to respond, "A woman's task in a hypothetical 'movie theater' is to cook? When will gender roles die? Sigh."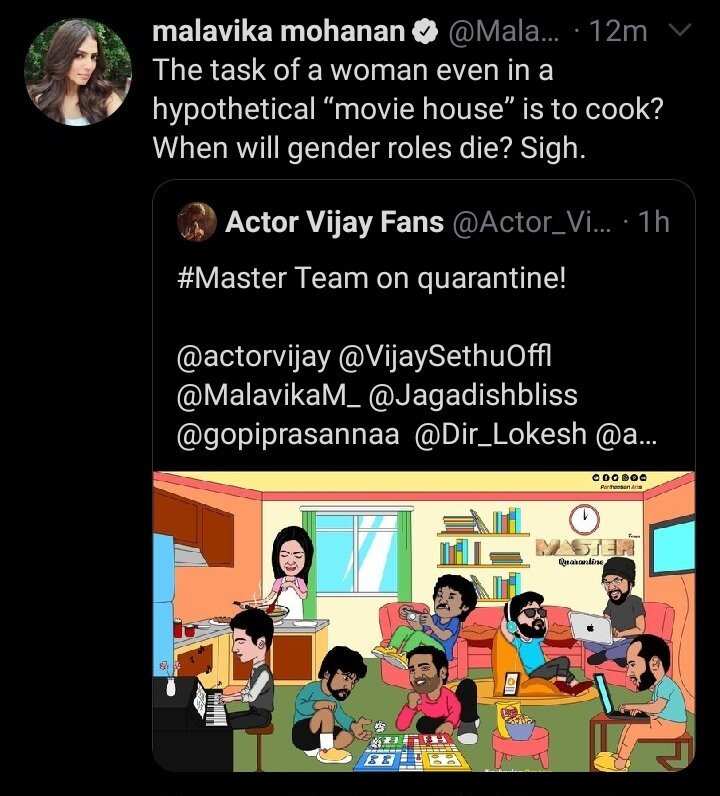 There were people who abused her and shamed her even after she deleted the tweet. There were also those who threw their support behind the actress and felt she shouldn't have deleted the tweet.
Chinmayi also came out to support her and said she understands why she had to delete the tweet. In one of the tweets she posted, "A lot of people can't stand the hate that comes from thousands of people. Bile is incredibly acidic. Don't blame them for it.